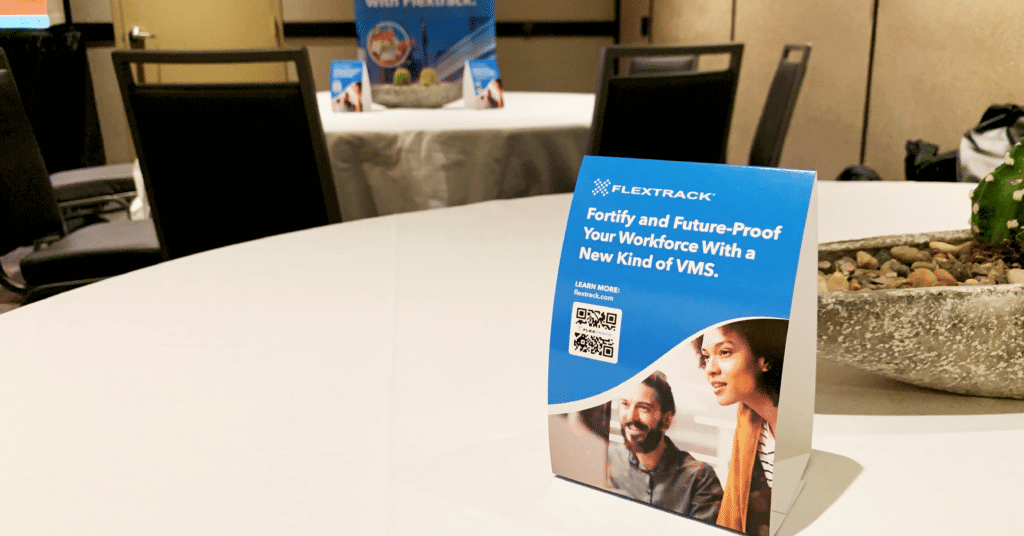 01 Apr

Dispatch from ProcureCon 2022 – In-Person Insights from the Extended Workforce

The anticipation had been building for months – my first in-person conference in over two years! The last time I spoke at an event, in March 2020, the world was on the cusp of facing COVID-19. There were no masks or social distancing in the airport or on the airplane, as the first twinges of trepidation over the uncertainty and seriousness of the emerging pandemic began to overtake most of our other thoughts. 

 

Fast forward through the lockdowns, the distancing, the masks, the shots, the video calls and the disruption of society, and I was ready to step back into the energy, pace and relationship building of an in-person conference. Judging from the warm smiles, instant connections and easy conversations at the event, many other leaders of people and procurement like myself were just as enthusiastic about being at a live, in-person event. The overarching consensus among participants in Phoenix was that punctuating the many benefits of working from home with live, group interactions is the preferred approach to corporate life moving forward.  

 

ProcureCon is billed as "The Conference Where Contingent Workforce Sourcing Leaders Connect and Inspire," meeting the "top minds in HR and procurement to meet, learn, and build winning people strategies." The upheaval we've been experiencing since March 2020 does not appear to be slowing down, even as we get used to the fact that things aren't going back to how they were before. Now, a winning people strategy in organizations must include the contingent or extended workforce. What follows are some of the most common topics from conference keynotes, panels and all of the informal conversations that make such events so valuable:
The Extended Workforce is Now a Pillar of Talent Strategy

– The incredibly dynamic market for talent is accelerating a convergence towards total workforce management. While much of the attention over the past few years, especially the past six months, has been focused on the full-time equivalent (FTE) segment of the total workforce, people leaders are increasingly recognizing the benefits and necessity of non-FTEs in creating value for their businesses. How to increase sourcing, accessibility and inclusion while improving the experiences of independent contractors, gig workers, temporary employees, consulting teams and even non-paid workers in all things talent was a predominant topic for many exchanges between conference participants. 

Data Rules

– A number of keynote and breakout sessions focused on the value of data in managing the extended workforce along with the ecosystem of solutions, suppliers and service providers in the space. As with people analytics for the FTE workforce, providing dashboards and backward-looking measures to program and hiring managers no longer suffices in a digital, data-driven world. The transparent presentation of data must be accompanied by open communications and actionable steps in order to make good decisions and facilitate change. One of the most interesting insights I've observed is how the right graphics can connect emotionally with consumers of data to compel action.

Technology Solutions Must be Built for Change

– Digital transformation is finally reaching the extended workforce. The slow, code-heavy vendor management solutions (VMS) based on software as a service (SaaS) technologies are giving way to more agile models, based on platform as a service (PaaS), that allows for rapid adoption and deployment of new solutions as they come online. These PaaS-based solutions also allow for experimentation with new approaches without becoming cost-prohibitive while making it easier to decommission solutions that no longer make sense as an enterprise – and its talent strategy – evolve.
As I prepared to leave the conference I can't help but think that the fun has only just begun with the extended workforce. Bringing in all the investment and innovation experience over the past few years with the FTE segment of the workforce will not only provide unfettered access to talent like organizations have never seen before, but it will also fill an important gap in creating a truly human-centered enterprise. 
Join us.
Want to learn more about Flextrack's extended workforce platform? Contact us.
Jeff Mike works closely with HR, Procurement and IT leaders to design extended workforce ecosystems that fuel and future-proof enterprise talent strategies. Jeff brings over 15 years of experience leading HR functions, along with five years leading global HR- and workforce-related research, to combine the best thought leadership, business practices, and platform technology into purpose-built solutions.