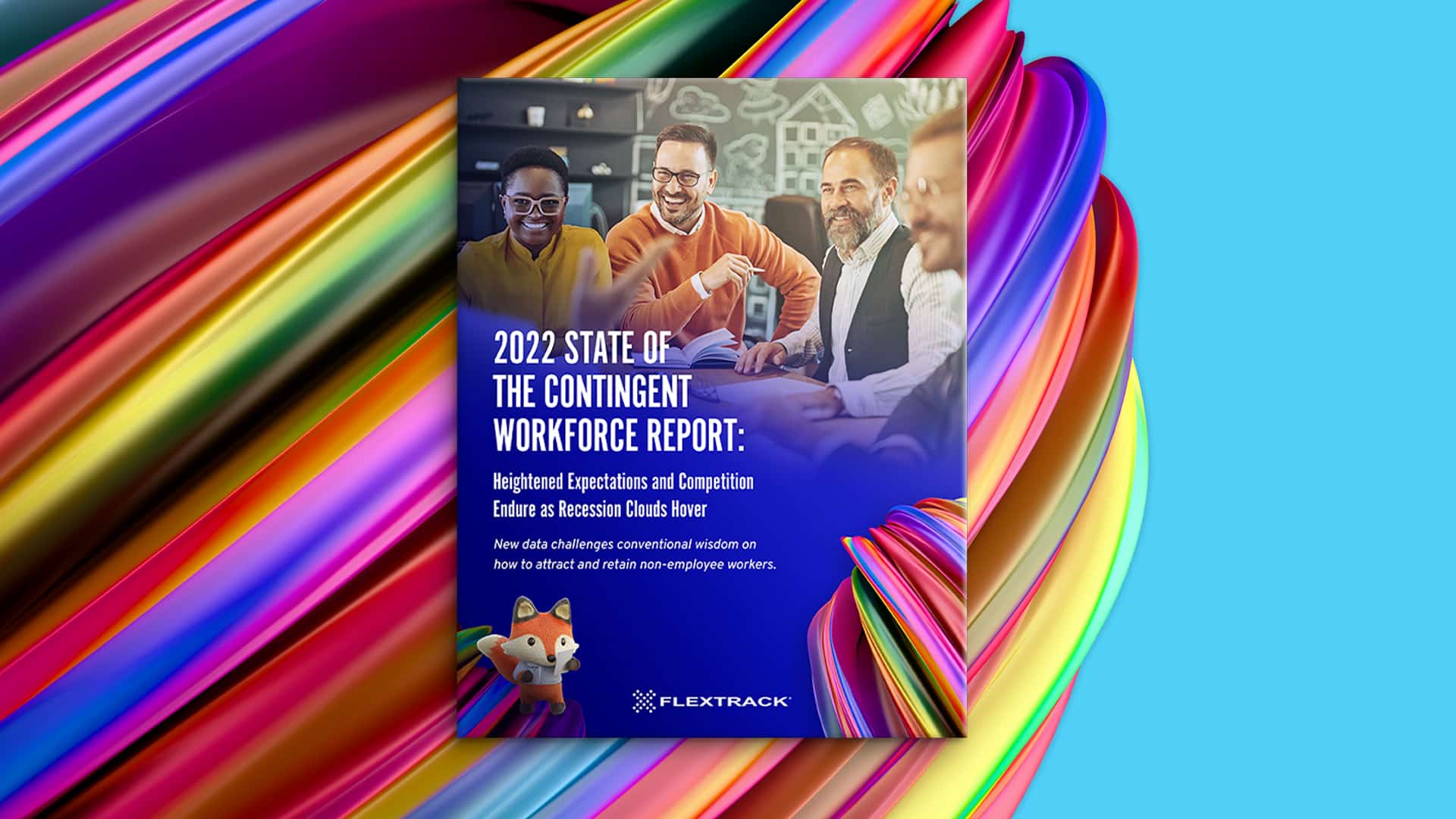 17 Oct

What Do Contingent Workers Look For Beyond Pay? Flextrack Study Finds Out

Learn from this study the workplace attributes most important to contingent workers and how organizations can attract, engage, and retain them.

 

The contingent workforce is growing rapidly worldwide. Companies are realizing that tapping into this workforce can provide massive benefits. So, what are some of the workplace attributes most important to contingent workers in today's employment landscape? How can companies attract, engage, and retain this workforce? Check out the findings from Flextrack's recent study.

 

The COVID-19 pandemic forced employees worldwide to reevaluate their priorities and what is important to them at work. As a result, many employees shifted their priorities toward greater balance and finding roles aligned with their passions and personal lives. This phenomenon has even reached the contingent workforce.

The contingent workforce is growing at a rapid rate. According to a 2021 study by Staffing Industry Analysts (SIA), about 35% of the workforce in the U.S. is the contingent workforce. Many companies realize that tapping into this growing workforce helps them access new and specialized skill sets to drive organizational agility.

Flextrack recently conducted a study to uncover the workplace attributes most important to the contingent workforce. The study also identified opportunities for companies to attract, engage, and retain the most sought-after talent. The following are a few findings from the study.
Company Culture Is Catching Up To Become the Top Priority
Traditionally, pay rate has been the primary factor determining whether a contingent worker accepts an assignment. According to SIA's recent study, 71% of the contingent workforce program managers have increased their pay rates over the last year to address talent shortages. This shows pay rate has been a top priority for this workforce segment. That said, cultural factors like meaningful work, collaborative environments, workplace respect, and a commitment to DEI are increasingly influencing contingent workers' decisions to accept an assignment or end one early.
According to the study, meaningful work topped the list when this segment was asked about the most crucial factor influencing their decision to take up an assignment. About 66% said this was very or extremely important. Similarly, 65% said the same about schedule flexibility. These were followed by company stability (64%). Interestingly, a simple pay increase did not rank in the top five factors. This doesn't mean pay is not important. It probably is more important in these times of economic uncertainty. However, attracting and retaining contingent workers takes more than a pay rate increase.
The most important workplace attributes slightly varied between generations. For example, meaningful work was the top priority for Gen Z workers, while schedule flexibility was the top for Millennials.
See more: Looking To Hire More Contractors? Follow the "3 Ps" To Drive Business Success
Meaningful Work: The New Company Value Proposition
According to the study, about 46% of non-employees prefer contingent work to regular employment. Contrarily, 53% would consider ending an assignment early if they got a full-time and permanent job. Nearly 33% were neutral, indicating a significant opportunity for companies to influence these workers to complete assignments and stay engaged with the company, either in contingent or full-time roles.
For contingent workers considering switching to full-time employment, meaningful work (75%) was a top factor when evaluating assignments. This highlights the importance of meaningful work in attracting any worker. Companies offering meaningful work give themselves an advantage and stand to improve their workers' engagement and productivity.
Historical Gap in Work Culture Expectations Is Narrowing
As more companies realize the importance of a contingent workforce, the traditional divide between full-time employees and contingent workers is reducing. While traditionally, contingent workers may have seen marginalization compared to full-time employees and company culture, a promising picture is emerging.
The overall contingent worker experience today is positive. The study found that almost 60% of non-employees regularly received recognition for good work. Further, over 50% said they often or always experienced the same respect as regular employees and inclusion in important work activities with full-time employees. 
The biggest worker experience gap companies should focus on reducing is providing a mechanism for contingent workers to provide constructive feedback on their assignments. About 47% said they didn't get an opportunity to provide feedback, and 60% said they weren't given post-assignment exit surveys. Companies can use the right technology that makes it possible to provide feedback. Of course, managers should follow up on the feedback.
Companies that work toward improving contingent worker experience will ultimately attract, engage, and retain an important percentage of this talent.
A Mixed Perspective on Stability Provides Opportunities for Companies
About 51% of non-employees were confident in their work stability despite a possible recession. About 45% would consider leaving an assignment early based on unstable economic conditions. Between 25-33% did not have strong convictions. This suggests an opportunity for employers to influence these workers' outlooks to ensure they remain committed to the organization.
In the current economic conditions, only 15% indicated a strong willingness to accept lower pay in return for regular, full-time employment. Almost 66% indicated a neutral or slight desire to make this compromise. This again suggests that factors beyond pay rate can influence these workers' decisions to stay with the current assignment or switch to a full-time role.
As recession clouds loom, companies should focus on reinforcing the non-compensation elements of work while managing labor costs.
Unmet Expectations Can Drive Talent Flight
Workers have more power today than two years ago, mainly due to the lack of digital skills and workers re-thinking where their careers fit in their lives. This is actually one of the reasons many choose to become contingent workers.
The study found that 45% ended their assignments early due to dissatisfaction. Beyond non-employees having higher expectations from employers, if companies don't deliver, the most skilled workers can quickly find a new role that better suits their needs. 
Non-employees would consider ending an assignment early if there is a change in in-person or remote working expectations (45%), the role is different from that described in the interview (49%), and the position has less work than promised (45%). A few other factors that would drive them to end an assignment early include opportunities with greater daily pay (44%) or professional development (47%), a role with significantly higher pay (43%) or hours (43%), or experiencing a lack of inclusion in the workplace (42%).
See more: 5 Ways to Prepare for a Blended Workforce
Today's Workers Want It All
The expectations and stakes for companies today are higher than ever. Contingent workers want assignments that align with their values. They want the right work culture, flexibility, stability, and inclusivity. They want two-way feedback opportunities to grow. And all these should be available alongside competitive pay.
Companies should look back over the investments they have made in full-time employee experience over the past few years to gain insights to extend it to non-employees. But it cannot be a cut-and-paste exercise. Digital transformation is now reaching these workers. Tech innovation is now taking off to help companies upgrade their employee workforces and experiences. Companies that select agile, user-friendly, and cost-effective tools can create a highly productive and engaged contingent workforce as part of their complete talent strategy.
Read the full article at: https://www.spiceworks.com/hr/engagement-retention/articles/what-contingent-workers-look-for-beyond-pay/
Vic is an accomplished leader who brings 20 years of experience leading marketing and communications at some of the world's foremost technology companies. Vic previously led global marketing and communications at Ingram Micro Cloud helped launch the CloudBlue brand and led digital marketing for the PaaS business. Before Ingram Micro, Vic led the Global Marketing Team at Printronix. He oversaw programs and initiatives to merge the company with TSC Auto ID and form a new independent brand. Vic held senior marketing positions at Havas Worldwide and IBM earlier in his career. He received his Bachelor of Arts Degree from Bond University, his MBA from the University of La Verne, and is a graduate of the Performance Leadership Program from Cornell University.