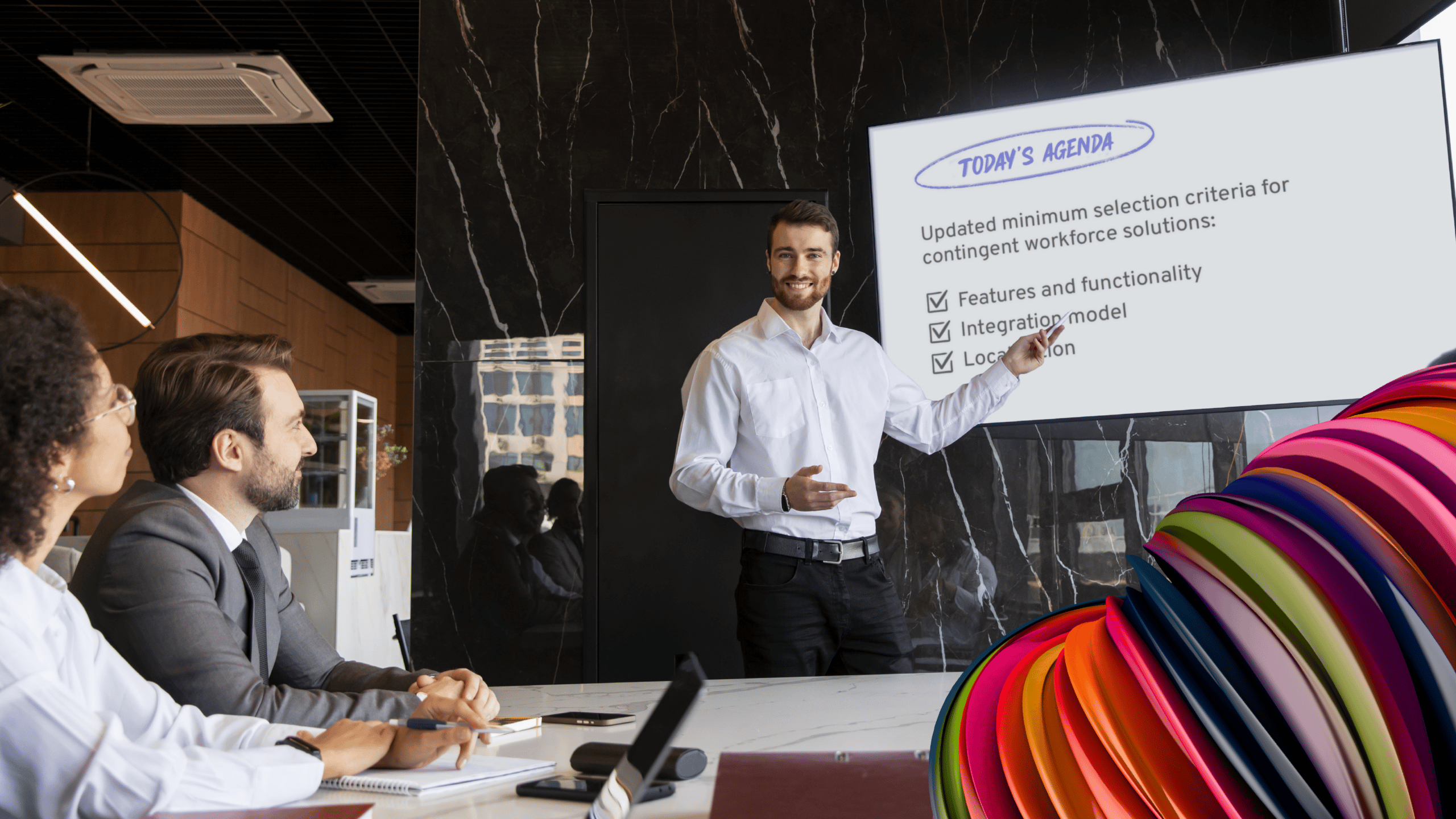 28 Sep

New Criteria for Selecting Extended Workforce Solutions

Leading organizations continuously evaluate technology solutions to solve today's talent problems. For the contingent or extended workforce, many enterprises engage consulting firms and/or managed service providers (MSPs). These experts in the non-employee workforce space guide their clients in selecting the right technology solutions to achieve strategic talent outcomes through their extended workforces. These partners do so by helping to formally define an organization's business requirements and map out how a number of systems must interact to engage and manage their non-employee workers. 

As markets and technologies transform, so must the approach businesses are using to assess enabling solutions. Formerly key criteria are now table stakes. As a result, technology selection teams are now looking at updated criteria to determine which solutions best fit their business and talent strategies – now and into the future. A number of vendor management systems (VMS) are available in the market today, and it's important to find the one that fits technology strategies and organizational cultures to create a sustainable competitive advantage through the extended workforce.  

Historically, the selection criteria for VMS technology have been focused on the comparison of features and functionality, experience with integrating with a specific enterprise resource planning (ERP) system, and the security and localization of solutions. These are still important items that need to be included, however, they have become the minimum criteria for a viable and relevant product:


Updated minimum selection criteria for contingent workforce solutions
Features and Functionality: Ensuring that technology meets an organization's functional requirements has always been key. However, VMS technologies have been around for over 20 years, which means these features have now become table stakes. Now, they represent what's needed to have a minimum viable solution for basic use. Due to ever-changing business needs, the question is now whether or not new integrations can be quickly created and released so that modern features and functionalities can enable business.


Integration Model: Integration with leading ERP systems such as SAP, Workday and Oracle is not enough. Each system is designed for each client's needs, and each implementation is unique. With the increased use of talent technologies within an organization, the number of integrations required is only increasing. What matters now are time, effort, and resources. The question is, "Which solution has the best tools to lower their total cost of ownership (TCO) to deploy and maintain more agile integrations?"


Localization: The ability to support local languages and currencies has become table stakes. Additionally, the ability to be agile in customizing unique workflows and bill/pay arrangements is what really defines a solution's capacity to be global.  


Required selection criteria for next-generation extended workforce management


As extended workforce technologies evolve, so do the tools needed to develop, deploy, and maintain solutions. These tools offer increased productivity and reduced development times, making it easier for technology to support what users require to achieve their objectives.  Organizations need to add these additional criteria when determining which solutions meet their talent and technology strategies. 


Adaptability: The ability to be flexible and adapt to changing business needs is integral for productivity and seamless workflows. Unforeseen events, such as a pandemic, can occur and dramatically change the business landscape. Being able to adapt and customize workflows to support these changes differentiates the leading businesses from those that lag behind.
 
Interoperability: The increased availability of solutions in the extended workforce ecosystem requires easy integration of systems for simplifying complexity and optimal user experience while mitigating risks and driving compliance. In this environment, organizations must rely on their technology partners to deploy industry-leading integration tools that minimize custom application programming interface (API) development. All the major ERP providers such as SAP, Oracle, Workday, and PeopleSoft understand this. That's why they partner with leading integration solutions such as Salesforce's MuleSoft to maintain their APIs in real time so their customers can easily and cost-effectively integrate with their platforms.


Future-Proofing Agility:

Choosing a solution that can evolve alongside changing technology is critical for future-minded businesses. Business leaders should ask questions about how much money they invest in new technology, how a solution has evolved over the past year, and how their roadmap supports the incorporation of new technology as it evolves. They should also consider the costs associated with moving too slowly or the inertia associated with old code stacks and technical debt. 

Selecting the right technology for a disruptive, volatile talent market can be the difference between the success and failure of an organization's people strategy. Flextrack recognizes this disruption and has built a next-generation, Platform-as-a-Service (PaaS) solution that's powered by Salesforce to redefine the development and delivery of VMS. This allows our customers and partners access to state-of-the-art infrastructure for building their state-of-the-art extended workforce programs for today and tomorrow. 
Mark has over 25 years of experience in the workforce solutions industry. Mark has been responsible for implementing, operating, and transforming contingent workforce solutions for hundreds of organizations worldwide. Mark has also led technology teams that built and managed VMS solutions and other technology solutions to digitize and transform extended workforce solutions