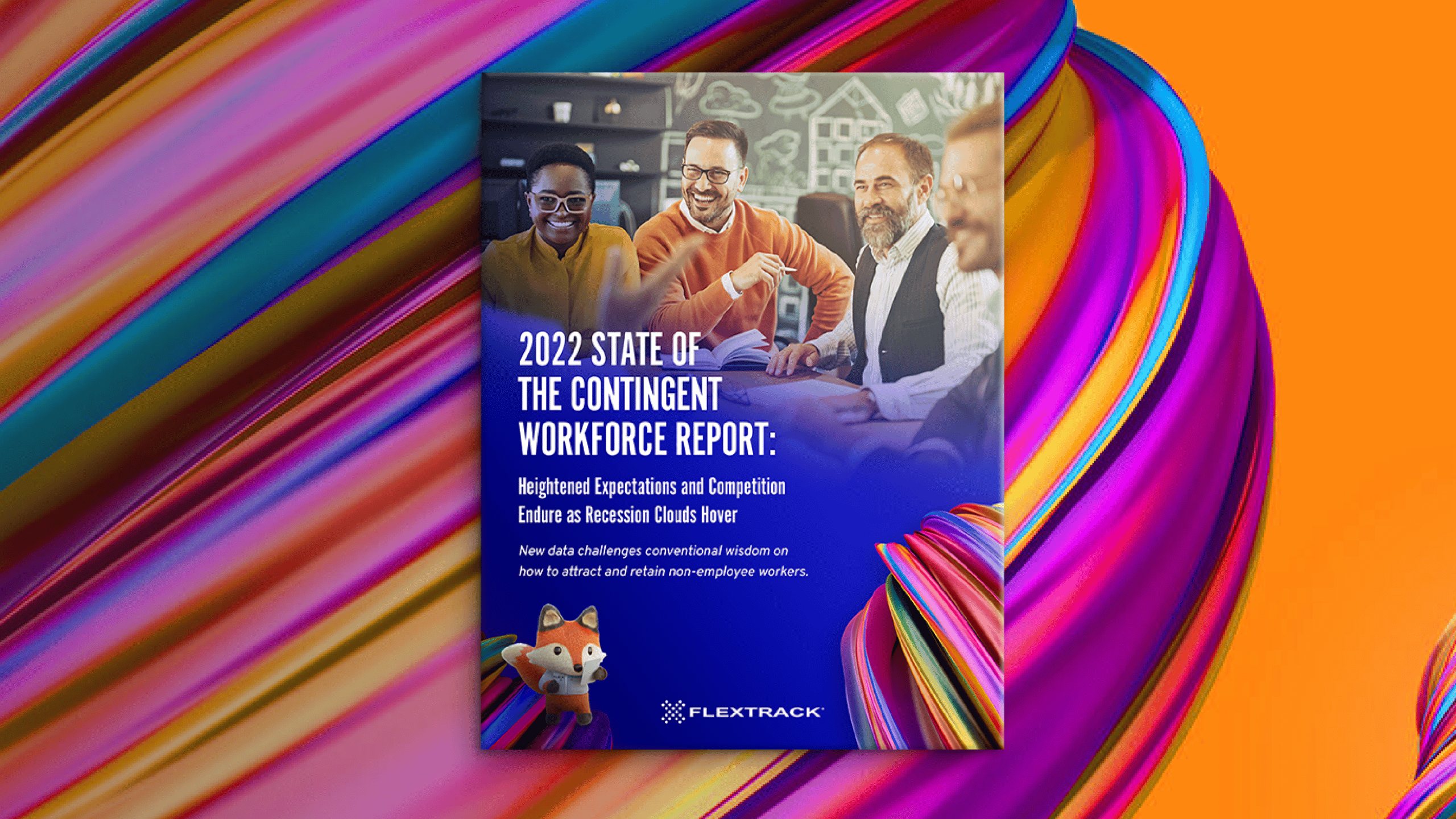 27 Sep

The Great Rethink's Next Disruption: The Contingent Workforce

The disruptions of the past few years have prompted workers everywhere to re-evaluate their lives and what is important to them in their work. While pay has always been a priority for contingent workers, new data launched from Flextrack in our 2023 State of the Contingent Workforce Report shows that top workplace attributes are shifting. Contingent workers are putting greater emphasis on company culture and relative stability when deciding where they want to work. 

Flextrack took a market pulse from non-employee workers across industries in the U.S. and Canada to get a sense of how this group is looking at work and companies as they make decisions about assignments – including leaving early. We found that: 
66% of contingent workers said meaningful work is very or extremely important to them when evaluating a new assignment. 

Schedule flexibility (65%), a collaborative and supportive work environment (63%), a positive interview experience (63%), and company commitments to diversity, equity and inclusion (60%) closely followed. 

Over half of respondents said they would consider ending an assignment early due to a toxic workplace or bad management. 

Workers' preferences clearly encompass company culture-related factors, but that doesn't mean that competitive pay isn't important. Given inflation is around a 40-year high, employers won't be able to hire top contingent talent without offering attractive and fair compensation. The takeaway from our research is that workers have higher expectations of their employers across the board, and it's going to take more than bigger checks to attract and engage people with sought-after skills moving forward. 
Stability ranks high as recession fears grow
We have heard the word "recession" a lot lately. Are we in one? Is it coming? How do we define it anymore? We are again facing unknown territory, with high inflation and low unemployment confounding markets and policymakers alike. Regardless of how you define a recession, our data shows workers greatly value stability in the current environment. Continued economic uncertainty will have a significant impact on talent mobility: 
45% of contingent workers would consider ending their assignment early due to economic stability concerns.

53% would consider ending an assignment early if a full-time opportunity became available. 

64% said company stability is very or extremely important when evaluating offers. 

Beyond meaningful work, cultural factors, and competitive pay, our findings suggest that employers also need to demonstrate company stability and resilience to ensure access to the most sought-after skills in non-employee workforces. The organizations that deliver across all areas will be better positioned to attract and retain workers even in a turbulent economic environment. 
Unmet expectations will drive contingent workforce mobility 

If organizations don't deliver on what's important to contingent workers, they are likely to move on to a company that better suits their preferences and meets their needs.
Just under half (45%) of respondents report they have terminated an assignment early due to dissatisfaction. This is similar to the percentage of contingent workers who indicated they would consider ending assignments early if the role was not what was described during interviews (49%), if there was a change in remote or in-person working expectations after starting (45%) or if the role had fewer hours or less work than promised (45%). 
47% of workers also said they would consider quitting early for greater professional development.

44% would consider leaving for reasons related to daily pay and 43% would leave for a higher pay rate.

42% said they would consider quitting if they experienced a lack of inclusion in team or work activities.

Rising to the expectations

Today's contingent workers have more power. This is thanks in large part to long-term digital skills shortages and workers re-thinking where their careers fit into their lives. As organizations increasingly tap into this growing workforce segment to open their access to specialized skill sets and top talent, understanding what attracts and motivates these workers and how to deliver on their new expectations is critical. We encourage our customers and ecosystem partners to start listening more intently to their non-employee workforces and develop the agile infrastructure and capabilities to respond at the speed required in today's market.  

What does it take to be an employer of choice in today's non-employee markets? Access the full report to dive deeper into workers' evolving preferences and the strategies to engage and retain the most sought-after talent.
Jeff Mike works closely with HR, Procurement and IT leaders to design extended workforce ecosystems that fuel and future-proof enterprise talent strategies. Jeff brings over 15 years of experience leading HR functions, along with five years leading global HR- and workforce-related research, to combine the best thought leadership, business practices, and platform technology into purpose-built solutions.